Get ready to level up your LashBack game! Our monthly series, LashHacks, is your go-to source for expert tips, tricks, and insider info on our platform's most powerful features. Let's dive in!
This Month's Hack: Reviewing Emails to Prevent Image-Based Postals and Opt-Outs
Why is this important?
When sending marketing emails, using image-based postals or opt-out options may seem like a good idea to comply with CAN-SPAM regulations.
However, images embedded within emails often break, resulting in recipients encountering difficulties while trying to access the necessary opt-out information. Such challenges can give rise to non-compliance problems.
Therefore, it's important to avoid broken images that could cause your emails to fall out of compliance. By utilizing BrandAlert to check your brand's marketing emails, you can flag any messages that may contain image-based elements for review and remediation.
We've seen a number of publishers, agencies, and brands choosing to use text-based postals and opt-outs. One less item to worry about breaking or not rendering correctly.
How to do it:
If you're familiar with checking your own brand's emails with BrandAlert, we'll guide you on what to keep an eye out for.
Image-based postals and opt-outs will have a distinct appearance, sometimes with colorful unsubscribe text and different color backgrounds. Yes, it may be more eye-catching and thematic, but it's crucial to note that this design has the potential to break in an inbox, which could render the email out of compliance with CAN-SPAM.
Take a look at the example below of an image-based opt-out.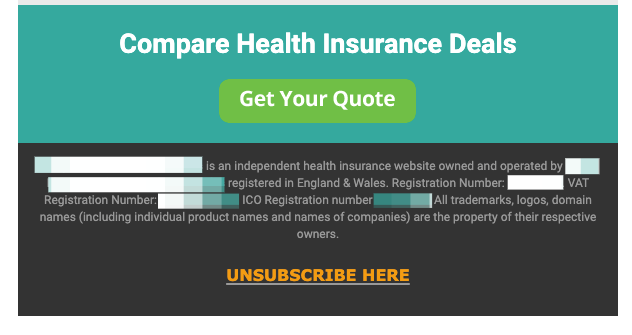 To ensure you're CAN-SPAM compliant, opt-outs should be placed at the bottom of emails in plain-text format, without any graphic images or stylistic elements. This is the safest approach to take and a best practice when crafting marketing emails.
Checking your emails for image-based postals and opt-outs is easy when using BrandAlert. But did you know that you can add this as a managed service function in our ComplianceMonitor tool?
Interested in learning more? Reach out to your account CSM!
Not a customer? Request a demo here!